Spare parts Gaggia Classic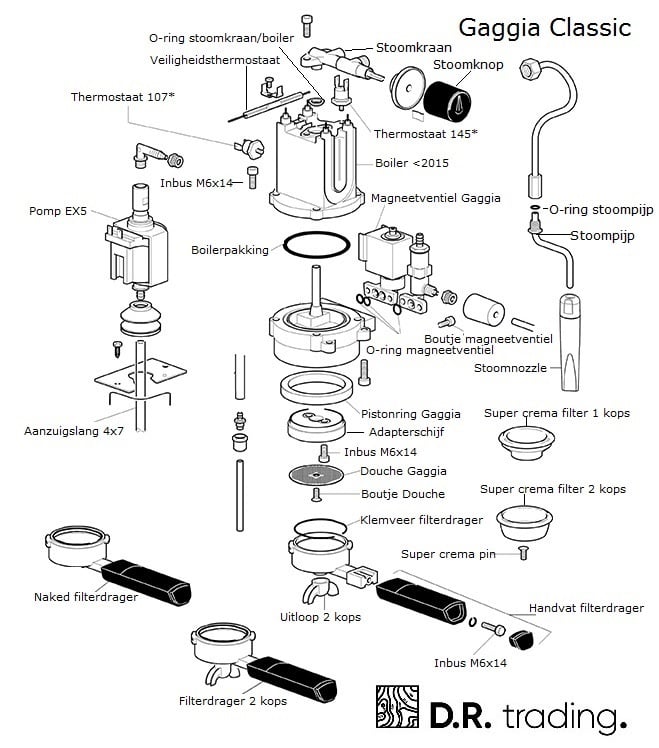 The parts of the Gaggia Classic can be found on this page. The parts of the Gaggia Evolution Color are similar to this, as are the group of a number of Kitchenaid machines.
Most parts are for model Sin 035 9303/11 (before 2015) and the newest Gaggia Classic Pro models. Please note, if you have a newer Gaggia (from 2014) you will have a different brewing group with different parts. Also recognizable by the following: Model Sin035U (Romania) and Model 9403/11 (Romania) Also recognizable by: - Stainless steel boiler - Filter holder with plastic spout (3/8 "thread) - NO solenoid valve (three way valve) - Switches off automatically when the machine is not used for 9 minutes. For this model, only the pump, shower strainer, filter holder and filters are the same as the older models.
Spring filterholder 58mm

For all machines with a 58mm filter (inner diameter = tamper diameter)

Replace this spring when your filters fall out the portafilter.

For E61 machines, Bezzera BZ series, QuickMill, Rancilio, Gaggia, Vibiemme, Marzocco, Cimbali…

€ 0,75

-20%

Pistonring / filterholder gasket Gaggia Classic

Piston ring for the brew group of your Gaggia Classic (and professional Gaggia models) Replace this ring if your Gaggia leaks along the filterholder.

The wings of your filter holder and the flange of your brew group wear slowly,…

€ 4,95 € 3,95

Filter Cimbali/Gaggia IMS competition style 12/18grams

IMS is the standard for baristas who participate at competition level. You can now also place this filter in your filterholder at home. The surface is extremely smooth and the holes are perfectly distributed. Improved water and…

€ 14,95

Filter Cimbali/Gaggia IMS competition style 7/9gram

IMS is the standard for baristas who participate at competition level. You can now also place this filter in your filterholder at home. The surface is extremely smooth and the holes are perfectly distributed. Improved water and…

€ 14,95

Shower Gaggia IMS GA 200 IM competition style

IMS is the standard for baristas that participate at competition level. You can now also place this shower in your Gaggia Classic. The surface is extremely smooth and the holes are perfectly distributed. An improved water…

€ 15,50

Filter Gaggia/Cimbali IMS The Single 7,5 gram

IMS is the standard for competitive baristas. The Single version has been specially developed to get the best extraction from a single dose. The shape is made in such a way that you can make a nice compact coffee pulp with it and…

€ 17,95

Steam pipe upgrade Gaggia Classic

Do you want to be able to foam nicer with your Gaggia Classic? Then replace the steam pipe of your Gaggia for this steam pipe from Rancilio. Disassemble the old steam pipe and remove the venturi. Now you have to remove the swivel…

€ 19,75

-12%

-14%

-15%

Overhaul kit Gaggia Classic

Complete kit to update your Gaggia classic

- Brass showerholder
- 2x inox screw showerholder
- Filterholder gasket
- Shower
- Screw shower
- Boiler gasket
- 3x O-ring 3 way valve / OPV
- O-ring steamtap/boiler
- O-ring…

€ 38,95 € 32,95

Shower holder Gaggia Classic stainless steel

Improved version of the aluminium and brass versions. The stainless shower holder will not corrode and retains temperature better due to improved mass. Four holes for water dispersion, a particular good fit in combination with an…

€ 32,95

Naked filter holder Gaggia Classic (Walnut)

Get the most beautiful shots from your espresso machine with this naked (open filter holder). Use it in combination with the standard 21 gram filter and see how the crema forms. In addition, the naked filter holder is an excellent…

€ 42,95

Brew group Gaggia Classic

BABY, BABY 89, CLASSIC, NEW BABY, NEW BABY 06, NEW BABY 06 CLASSIC, NEW BABY 06 DOSATA, NEW BABY DOSATA, PAROS, TEBE

€ 49,95

Solenoid valve 3 way OLAB

Solenoid valve for the Gaggia Classic (and other small Gaggia models) . We sell the heavier and more solid version of OLAB.

€ 52,95

-14%